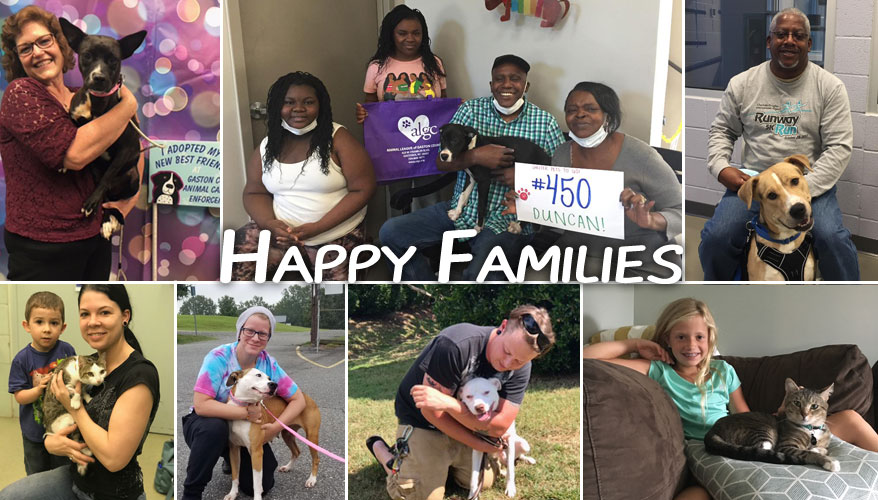 This program began on July 2, 2017.  ALGC partners with Gaston County Animal Care and Enforcement to publicize and provide free spay/neuter services to 3 pets (usually 1 dog and 2 cats) from the Shelter so that they can be adopted or rescued at no cost.  After 168 weeks, the program has helped 500 cats and dogs find homes (see video).  Potential adopters are screened to make sure they qualify for our pets.
The main factor is a vet reference, but we also have visited homes, checked public records, and interviewed people over the phone.  The program has been a great success, and we believe it raises awareness of the needs of Shelter pets and the importance of adopting them.  Each week, the selected pets are featured on the Facebook page for our Clinic, in the Gaston Gazette, Twitter, and on Petfinder.com.
SPTG! is operated entirely by volunteers.  Nancy Foltz has been the volunteer Director of the program since it began. There is no paid staff except the vet staff doing surgeries.  Every dollar donated goes directly to help pets.
We try to make sure our donors know when their sponsored pets are being featured, and let them know what happens to the pets, sending photos whenever possible.  We encourage our sponsors to feel a personal commitment to the pets.
The pets featured in the program are selected by Shelter staff based upon health and temperament.  All pets are spayed or neutered at our Clinic, have recommended vaccines, and are microchipped.  Dogs are tested and must be negative for heartworms.  Cats are tested and must be negative for feline AIDS and leukemia.  Our recently opened health and wellness clinic provides support, at low cost, to adopters if the pet requires medical attention, medication (heartworm preventative and flea and tick protection can be purchased), and vaccine renewals.
Some of our adopters have stayed in touch with us for years, and we love hearing news about our pets and receiving photos.  The pets featured in Shelter Pets to Go! are not just numbers to us.  We take a personal interest in each one.